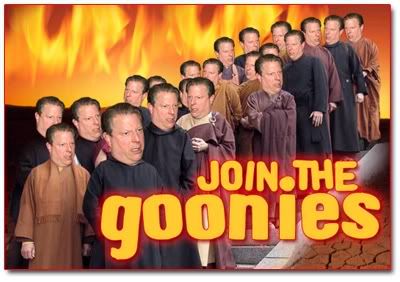 Recently a friend, Doug, got fed up and let loose on an issue. He was tired of mincing words and being diplomatic, and just wanted to tell it like it is.
The News Snipet is going to do the same.
---
Not long ago, the News Snipet pointed out that white western liberals throughout the world are faced with a new dilemma. One of their pet issues, global warming, was going to clash with another of their pet issues, poverty.
Visit here for the full article
---
Contemporary white western liberalism is a religion, and behaves like any other religion--it is all about controlling others based on "religious" principles without consideration of the original message and its intent.
In the name of tolerance, one becomes ultimately intolerant.
Broad mindedness ultimately becomes narrow-minded.
Non-discrimination becomes in discrimination which ultimately becomes discrimination.
One can only expect, that the results of this widespread and popular religion will yield the same fruit of any "theocracy."
The banners have been unfurled, and as "Onward Liberal Soldiers, marching as to war" swells from rank and file the machine grinds underfoot any opposition. Collateral damage is expected and acceptable, because the cause is self-affirmingly righteous.
---
This religious hysteria is beginning to harm people who are close to me, like
Mr. Bobbie
, not only that, but the effects are touching many world wide.
AOL News reports just one example:
"This week's story that no one read and everyone should have is about tortilla riots in Mexico. Yes, tortilla riots. In Mexico. Some 75,000 people protesting the rising price of tortillas.
Not to be overly blunt, but who cares, right? It's just a single grocery item in some other country. But the reason the people are up in arms is more important than anyone realizes.
Poor Mexicans rely on tortillas for their diet. And a lot of other poor people in a lot of other places rely on other foodstuffs made from corn.
The problem is ethanol. Ethanol, that fuel additive that reduces pollution and helps us wean our dependency on foreign oil and makes farmers rich and politicians look silly when they stump in Iowa. As the U.S. adds more ethanol to its gasoline, the price of corn is surging dramatically, leading to extreme market volatility."
---
While its religious leaders like Al Gore, a small, despicable and self-absorbed man who fancies himself the savior of the world, purchase "energy credits" (See
HERE
and
HERE
)and jet around the world preaching the gospel of "DO AS I SAY DO, NOT AS I DO", people are going to bed hungry at night.
While its religious groupies, like Sheryl Crowe who don't comprehend that much of the world can't even afford toilet paper, much less luxuriate in 1-3 sheets, engage in orgiastic consumption, old people are going to die from a lack of heating and cooling.
The blood of millions of innocents drips from the the hands of the world's religions and its warmongers, and this religion is no different.
This coming winter, many poor people will experience cold like never before because of liberal "green" energy policy and its impact on utilities.
This coming year, many poor people will go hungry as a result of misguided and moronic policies like the one mentioned above.
This coming decade more people will be pushed lower down the economic scale as a result of skyrocketing energy prices, regulation and taxation.
All for actions based on "all available evidence" pointing to something that doesn't exist.
Western white liberals, you have lost your moral authority to judge the likes of President Bush and his war machine. Your policies will make he and his cronies look like amateurs. You have lost your moral authority to point at the military-industrial complex and its death and destruction. You have lost your moral authority because your hands are covered with the same filth you claim to loathe.
Western white liberals used to think.
Western white liberals used to care.
But what was once a faith, is now just another dominating religion.
---
To read stories of other religious people who forgot what it was all about and had become with the "collateral damage" of their belief systems go here

Labels: angry white liberals, contemporary liberals, global warming, man-made global warming, religion