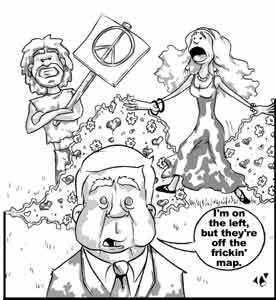 I posed a question to some of my friends over at Neo-libs (which are exempt from this analysis, because I would not characterize these gentlemen as your garden-variety "progressive liberal"), "Have contemporary liberals become what they once hated?" The reason I did, is that I know many good self-proclaimed "liberals" or "leftists" who may be willing to begin disassociation from what the "left" is fast becoming; just as many of us on the "right" have distanced ourselves from some of the extremism being promoted there. Consider the following about the *neolibs:

Disregard for advocacy and due process

Once vocal critics of clandestine and heavy handed government, they have empowered government to the point of tyranny and supported the elimination of individual rights in the name of social collectivism. For example, here are liberals proposing Nuremburg-type trials for anyone who disagrees with the psuedo-science that drives the current global warming debate.

Censorship

From employees hiding conservative books at Barnes and Noble to left-leaning websites banning differences of opinion, contemporary liberals are leading the charge on censorship and against freedom of speech. Here is You Tube censoring out a mock ad critical of the Clinton Administration

A Doctrine of Hatred/Intolerance

Ethnic slurs an racism through patronizing white elitism, calls for the death of President Bush, and the promotion of special interest in the name of "multiculturalism" are just some of the examples of the new racism/intolerance/bigotry/hatred that seeds the contemporary liberal population. Lanny Davis, confessed liberal, finds the hatred of his own kind reprehensible. Even the children are being taught violence and hatred for those who think differently than they do.

"Religious" Zealotry/Extremism

Blind devotion to an unproven global warming "science", unyeilding faith in theory-based secular social sciences (with a propensity to censor opposing ideas), and the willingness to throw self on a sword for the preservation of human abortion, euthanasia and irresponsible sexuality coupled with the refusal to acknowlege the figurative "pedophilia" within their own ranks of leadership while condemming those without. Spend some time browsing: www.democraticunderground.com Is there a whole lot of goose-stepping going on? Or am I the only one who sees it? *Disclaimer: This term used as an equivalent of the term "Neocon" but has nothing to do with my friends over at "Neolibs.com"--these guys are not "Neolibs, more accurately they may be "Classical Libs".