George Bush – The Liberal/Socialist
Prologue
The following essay cites examples, but will not bibliograph its contents. The instances raised can be researched by anyone who has the ability to use Google.com to do searches.
Political Science for Dummies
In order to politically define a person in contemporary terms, one has to understand where they stand socially, and economically and identify the political policies they adopt in relation to the two. (We could throw "religiously" in there also, but for purposes of this analysis it won't be necessary.) As terms like "liberal" and "conservative" are often relative terms we first have to establish contemporary definitions in order to give them meaning. In order to do this the first order of business is to have a basic understanding of the following political model (there are corresponding social and economic models also):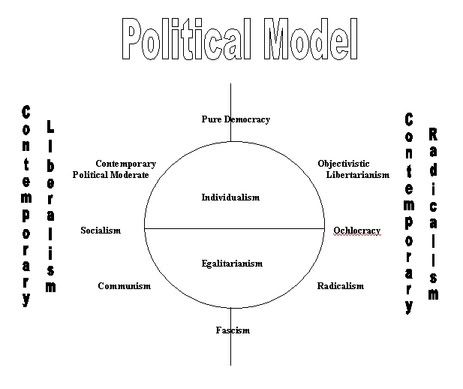 Since we do not have time here to teach an entire political science class, we will look at the main points. First, note that democracy is at the center top of the circle. We will use this as the starting point to define all other political philosophies. Note also that the top half of the circle is government based on individual rights. We refer to this as "Individualism". An absolute democracy is about individual rights, a system where the people are the ultimate determination of governmental direction, policy, etc. We tend to look at democracies as being "Free" because the right of the individual is paramount to the right of the many (hereinafter referred to as "the collective"). In democracies the power belongs to the people with a subservient governmental body to carry out their will. Now note the bottom of the circle where we see the opposite of democracy-which is fascism. As the power lies with the people in a democracy, the opposite applies to fascism in that the power belongs to the governmental body (whether it is an absolute monarchy, dictatorship, theocratic dictatorship, etc., these all remain the same) with the people being subservient to the government. We look at this as enforced sameness—where the government puts all members subject to itself equally. This is commonly referred to as "Egalitarianism". This is where the government forces everyone to be the same. Under fascism there are only two classes—the rulers and their servants. Now contrary to what most people understand, a deviation from democracy in either a LEFT or RIGHT direction in the extreme ultimately leads to fascism. Traveling in a leftward direction away from democracy is considered "liberalism". Traveling in a rightward direction away from democracy is considered "radicalism". Notice that both move away from individualism, it is only the ways that that they move that differ. I will touch briefly on the move right because that is not very relevant to our discussion. If the United States was a pure democracy (which it isn't—it is a mixture of democracy and socialism) then a move to the right would be toward complete libertarianism (where people's individual rights trump majority rule) then anarchy (where individual rights are paramount and complete control is lost by a governing body) to ochlocracy (where mob rule reasserts itself – survival of the fittest—alliances forming out of anarchy) to radical fundamentalism (where structures are formulated to control ochlocratic subgroups) then ultimately fascism. Anyone can see that this is not a good way to go, but we see it often in third world nations, the middle east, etc. If this is understood, then the inaccurate term "right-wing" would be discarded by contemporary media, because it hardly applies to the current state of government. Right wing would encompass all of those issues to the right, and we do not have a political party in power that fits on the right side of the circle. Let's look at the left side of the circle. As one proceeds left away from democracy (individualism) they will become more politically "moderate" move toward socialism (where the rights of the individual is taken away to create a more "fair" or equal society –egalitarianism) to communism (where government begins to remove all individual rights for the good of the collective) then on to fascism. So, in order to define our two terms in a contemporary sense, one has to know that a "conservative" is someone who wants to maintain the nation economically and socially as it was intended when established, and a liberal is one who wants to progress in a leftward direction away from that. A radical would want to take us away from that ideal through means of corruption. A liberal would want to take us away from that ideal through means of "progress".
Conservative:
A true American Conservative wants to maintain the United States in its most purest form. They are dedicated to the ideal that the government who governs least governs best. They are staunch advocates of the checks and balances as laid forth in the Constitution such as the separation of powers. They believe that the Congress, beholden to the people should make law that carries out the will of the people. They believe in an executive branch that helps enforce those laws. They believe in a judiciary that strictly interprets those laws. They are firm proponents of the Constitution and the Bill of Rights, as granted to individual freedom and responsibility. And that our leaders are subject to that Constitution—never above it. We are for a nation that is as close to democracy as one can become. (If you think about it, you may not know many "real conservatives")
Liberal:
A contemporary liberal is one who believes that the Constitution is a "living document" and that its meaning changes as times change. They believe in changing the nation politically to facilitate egalitarian ends. Moving left means leaving individual rights in favor of egalitarian outcomes. What defines a political philosophy as being left sided or liberal is if the move towards egalitarianism is justified for the "COMMON GOOD". With this framework in mind, you can be a political, social and economic expert! You can place social issues within this model and determine if the are liberal or radical, extreme individualism or egalitarianism. You can also evaluate political events and policy, and economic philosophy. So with this in mind, lets do what we set out to do; evaluate what George Bush is politically, socially and economically. Most of the Bush Administration and congresses policies fall on the left hand side of the circle. Discerning liberals should be happy.
The Bush Administration To Date
The best way to define someone is by their actions. Words are fickle, so we will primarily evaluate the policies and decisions of the Bush administration. Also, as long as President Bush has been in office, we will have to look at them in a macro sense vs. a micro. Political Philosophy: The Bush Administration has demonstrated time and again the philosophy that government is the solution for mankind and its problems. He has even said so. The following are brief examples of the overall political direction of the Bush Administration.
Domestic Policy-
Take the administration's support for the Patriot Act. When we evaluate the Patriot Act the main problem that stands out to us is that it violates individual liberties. The thing is, that it violates those individual liberties for the "safety of the collective"--a move away from individual freedom to placing restrictions on society for increased safety for all. I often get a chuckle when I hear liberals criticizing the Patriot Act, because in its essence it is liberal/socialist policy.
Trade-
So far, even though the administration has talked about free trade, any time they have taken an initiative it has been to interfere with free markets by implementing "fairness or collective" policies. Not long ago the steel industry was facing stiff competition from overseas, and the Administration's response was to impose tariffs on foreign steel; thereby using government power to interfere with freedom in order to create a collective good. This is not the only example of protectionism that the administration has adopted during its term. (Australia, Canada, CAFTA, etc.)
Education-
No one is a firmer advocate of state funded and dictated education than the Bush Administration. Public education, which is a product of socialism, (with America's system actually modeled after that of Nazi Germany), has seen larger increases in funding and scope under the Bush Administration than any administration heretofore. There has been increased controls on education also at the federal level, with less local autonomy.
Social Agency –
Welfare spending has increased. Social agencies have seen increases in both size, scope and power. Many of these are outside of Constitutional purview, but have been justified because of the good of the collective. The Bush Administration has spent more on social spending than any other president to date, and holds the proud title of largest percentage increase since Jimmy Carter.
Social Medicine –
From day one, the Bush Administration pushed for socialized medicine. They have made huge strides in that direction ushering in the largest entitlement program to ever hit these United States. And it is just getting started.
Politics –
The Bush Administration signed into law the campaign finance bill that is blatantly unconstitutional. It takes power away from individuals to wage campaigns the way they see fit and for the "good of the collective" instituted policies that essentially protect incumbents. A conservative would have never allowed this to happen.
Social Policy –
George Bush and his administration has come out against gay marriage. Wait! How can that be liberal? The gay marriage ban is a use of government to enforce the will of government for the "good of the collective". Many liberals I know are all for gay marriage, but they have no idea that the use of government to enforce morally legislated egalitarian outcomes is liberalism working through social policy.
Foreign Policy –
A common misconception of today's left is that "liberal" means anti-war and "conservative" means pro-war. I hate to point out the obvious, but more major wars have been waged in the twentieth century as a result of liberal/social politics than from radical/right politics (discounting the petty conflicts and internal skirmishes in places like Africa and South America). War is not franchised by either side, and is endemic to both. America has often justified its military action by saying it had to do with the issues of national security. Protection of the collective. The reasons given to go into Iraq (no matter what your believe one way or the other) was that it was a threat to the security of the United States. President George W. Bush has made Woodrow Wilson the guiding spirit of Republican foreign policy. A candidate who criticized nation building is now pursuing global social engineering. THIS ONE SHOULD STICK IN MOST AMERICAN LIBERALS CRAW: The Bush Administration has even advanced a doctrine of pre-emption that encourages war for allegedly humanitarian ends. Attempting to justify the Iraqi war retrospectively by pointing to Saddam Hussein's manifold crimes, the president apparently believes he may attack any nation to advance human rights.
Fiscal Policy -
I would challenge anyone to find any significant differences between the Bush Administration's fiscal policy and the Clinton Administration's. I think the first thing that springs to mind is "tax cuts"(always prefaced "for the rich"), but these were not significant enough to even be considered part of the fiscal policy. Those on the left and right were anxious to blame mounting deficits on tax cuts, the war, and a slow economy, but the simple truth of the matter is that President Bush is a bigger spender than both Clinton and Carter. (Yes, defense spending rose by about 34 percent since Bush came into office. But, at the same time, non-defense discretionary spending will have skyrocketed by almost 28 percent. Government agencies that Republicans were calling to be abolished less than 10 years ago, such as education and labor, have enjoyed jaw-dropping spending increases under Bush of 70 percent and 65 percent respectively). How else can one explain the administration publishing a glossy report criticizing farm programs and then proceeding to sign a farm bill that expands those same programs? How else can one explain the administration acknowledging that entitlements are going to bankrupt the nation if left unreformed yet pushing the largest historical expansion in Medicare one year before the election? Other than tax cuts—which have benefited the rich only because the rich paid, and still pay, most of the taxes—virtually nothing of conservative substance has happened. Government is more expansive and expensive than ever before. Actions speak louder than words.
The Problem
The problem with many liberals is that they are compartmentalized in thinking. They tend to define a political figure based on a single issue. For example, they will think that if someone is pro-life, then they are "conservative", and completely ignore every other philosophy or action. (Side note: President Bush is not pro-life. Surprised?) Conservatives share these same blinders and have largely ignored the Bush Administration's overall policies because of its apparent verbal placation of some of their pet issues. James Traub contends, "Today's Republican Party [led by the Bush Administration] is arguably the most extreme—the furthest from the center—of any governing majority in the nation's history." The only extreme detected in this tirade is James Traub's lack of education and understanding! This is the Administration and Party that has embraced as its own every liberal initiative, from Lyndon Johnson's Medicare to Jimmy Carter's Department of Education to Bill Clinton's AmeriCorps. This is the Administration and Party who have enacted a Medicare drug benefit that would represent the largest expansion of the welfare state in 40 years. This is the Administration and Party that is increasing federal education spending as if doing so had something to do with the quality of local schools. This is the Administration and Party that is increasing spending faster than an previous president or administration. Right-wing extremists? Evidently, from the Left, liberal means centrist, and moderate conservative approaches fascism. True conservatism must be off the scale. In short, a liberal who thinks that the Bush Administration or the Republican Party is "right-wing" is either so ignorant of politics and political science in general, or so far left that they think communism a wondrous concept. Truly educated liberals should identify with the Bush record. He is increasing the size and power of the U.S. government both at home and abroad. He has expanded social engineering from the American nation to the entire globe. He is lavish with dollars on both domestic and foreign programs. I think that the only thing they hate about him is that some call him conservative, he prays, and is against late term abortions. George Bush is a liberal socialist. Is there an truly educated liberal out there who can prove otherwise? -Jack Mercer Is it my guess that many liberals are not as "liberal" as they think they are?