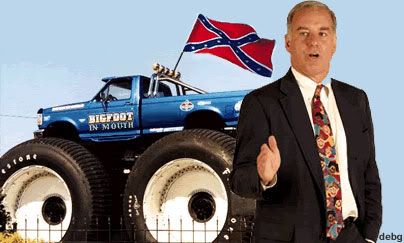 Apparently Deanitis (a disease charactarized by the following symptoms - wide open mouth with whole body inserted) has become widespread among Democrats. One day Democrats are going to discover that the best way that they can be taken seriously is to disontinue speaking altogether.

After listening to Democrats once again call for a timetable to finish in Iraq, the Republicans introduce a vote, forcing Democrats once again to demonstrate that their money is not where their mouth is. Source: Fox News
The GOP resolution says the House is committed "to achieving victory in Iraq" and that setting an "artificial timetable" would be "fundamentally inconsistent with achieving victory." Some Democrats objected to the frequent use of the word victory. "What is victory? Nobody has defined what victory is," Rep. Jim McGovern, D-Mass., said.
The Snipet couldn't make up any better material...