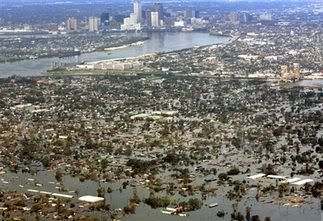 "THE HURRICANE that struck Louisiana yesterday was nicknamed Katrina by the National Weather Service. Its real name is global warming." Writer Ross Gelbspan, the author of two global warming books, goes on to argue that the United States caused Hurricane Katrina by refusing to cut our use of coal and oil by the 70% that he says is necessary to stop global warming.
______________________________________________________

A group on the opposite end of the spectrum, Columbia Christians for Life, asserts that Hurricane Katrina is God's punishment for abortion. CCL mailed out a satellite image of Katrina that it says is the spitting image of a six-week old fetus. The picture was accompanied by the message, "Just as God did with a similar satellite picture of hurricane Ivan in 2004, He is showing us, in this and many, many, many other ways, our abomination of child-murder-by-abortion. When will we stop murdering 3,000 plus babies in America per day !?l"